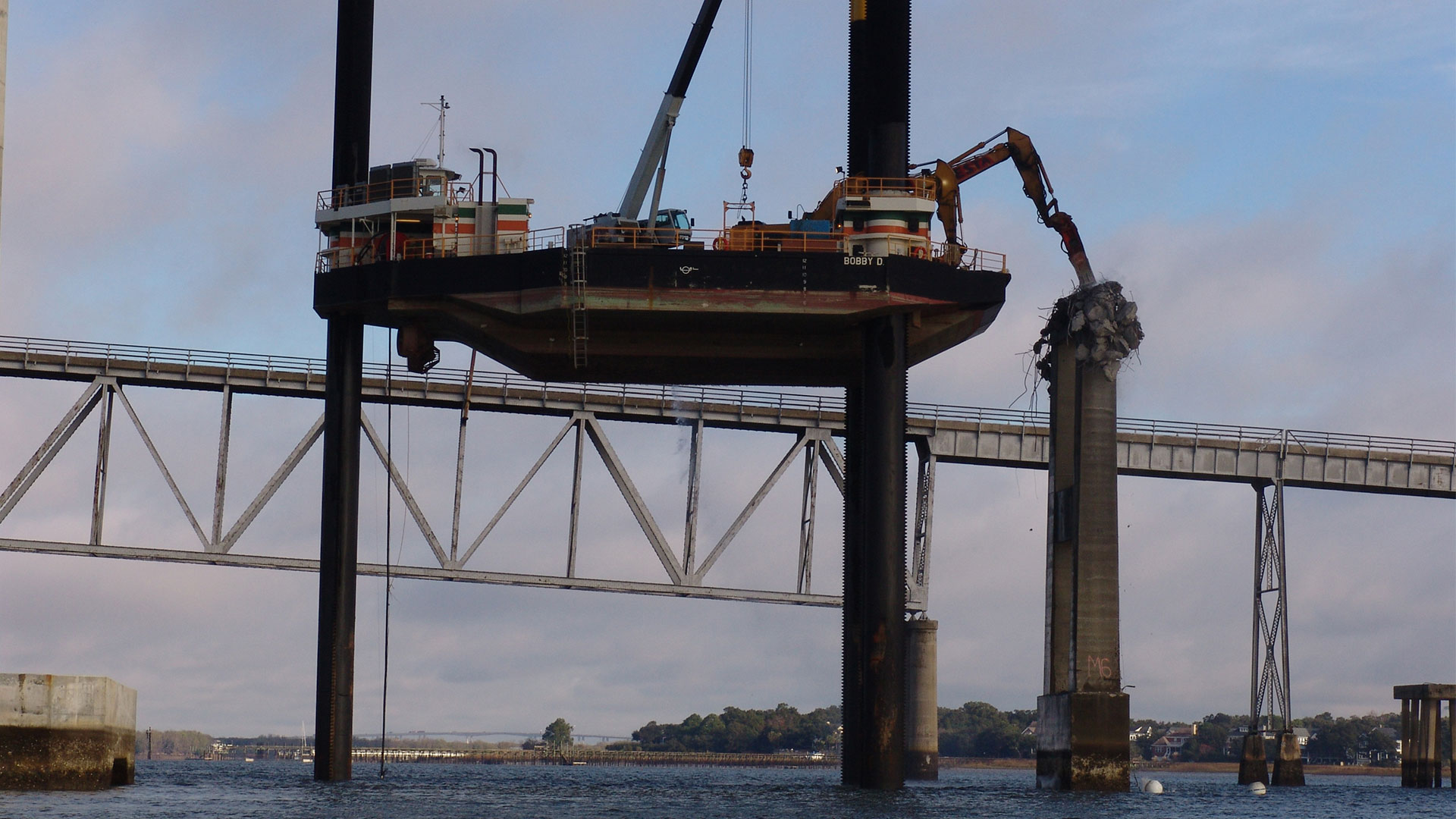 Cooper River Bridges Demolition
The Cooper River is a tidal river located in South Carolina. When the John P. Grace Memorial Bridge went up, motorists were able to cross the Cooper River for almost 8 decades. However, the Grace bridge quickly became both functionally and structurally deficient, prompting South Carolina to build a parallel span just a few meters south, known as the Silas N. Pearman bridge. These two bridges were the only connection between Charleston and Mt. Pleasant until the Don Holt Bridge was constructed in 1992.
After the new Ravenel Bridge opened in Charleston in 2005, the South Carolina Department of Transportation contracted JV partners CASHMAN and Testa to begin the process of demolishing the Grace and Pearman bridges, which had carried traffic over the Cooper River since 1929 and 1966, respectively. Demolition was planned as a reverse-engineering project with the help of Weidlinger Associates. Both CASHMAN and Testa brought specific expertise to the project: CASHMAN brought construction management and marine expertise, and Testa, which had been demolishing bridges and been a demolition contractor since its start, brought excavation, earthwork, and a variety of demolition tools and techniques.
PROJECT HIGHLIGHTS
Removed bridge sections via both explosive demolition and lowering by jacks into barges.
Used unique equipment to perform all demolition work, including cranes and hydraulic machines on barges.
Removed foundations to final elevation of -65 feet.
Constructed a 1,250-foot-long observation pier.
Reconstructed city streets and installed all new utilities in footprint of the old bridge approaches.
Provided local neighborhood groups with updates of construction and changes in traffic routes.
Used optimized techniques to clear the shipping channel following demolition within the allotted 24-hour window to maintain access to Port terminals.
Download Project Sheet
Download PDF
Details
South Carolina Department of Transportation (SCDOT)
$61 million
May 2005 - September 2007
Services
• HEAVY CIVIL & MARINE CONSTRUCTION

Location