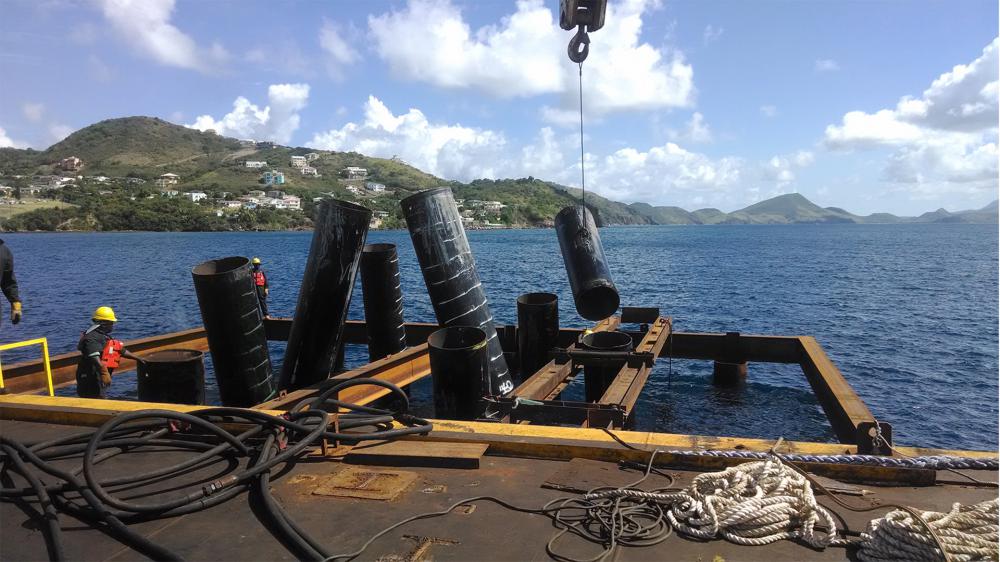 Saint Kitts Deepwater Port Dolphin Construction
Located on the Basseterre coast, the Deep Water Port is the main cargo handling facility for St. Kitts, and can comfortably accommodate vessels over 900 feet long with a draught of 27 feet. Vessels up to 300 feet can berth at the Ro-Ro pier which has a minimum depth of 19 feet.
CASHMAN was contracted by the St. Christopher Air & Sea Ports Authority (SCASPA) to support its long-term strategy to further develop and modernize the cargo port of Bird Rocks to accommodate larger cruise ships visiting the islands of St. Kitts and Nevis. CASHMAN constructed a new breasting dolphin at the deep-water commercial port in Basseterre, St. Kitts. This dolphin made it feasible to berth eagle-class cruise ships at the commercial pier while the second pier was under construction. Additionally it provides a larger berth for increased capacity cargo ships. The dolphin is made up of seventeen 36-inch piles and has a 230-cubic-yard cap made up of reinforced 5,000 psi concrete. CASHMAN also constructed the temporary deck, rebar reinforcement cage, and form work for pouring concrete.


PROJECT HIGHLIGHTS
Construction services included driving piles into the seabed to gain compression strength and to provide a platform to cruise ships that were larger than the then-current berth at the cargo port, for breasting and mooring.
C

ASHMAN

conducted the pile driving into bedrock depths; welding and testing of piles; and cutting of steel.
The infrastructure was designed so the dolphin could still be used as a breasting dolphin once the Bird Rock pier was developed and expanded.
Because the area was extremely busy, C

ASHMAN

worked with SCASPA to keep mariners away from construction areas.
Work was completed in time for the spring 2014 cruise season.
Download Project Sheet
Download PDF
Details
St. Christopher Air & Sea Ports Authority (SCASPA)
$1 million
2013 - 2014
Services
• HEAVY CIVIL & MARINE CONSTRUCTION

Location