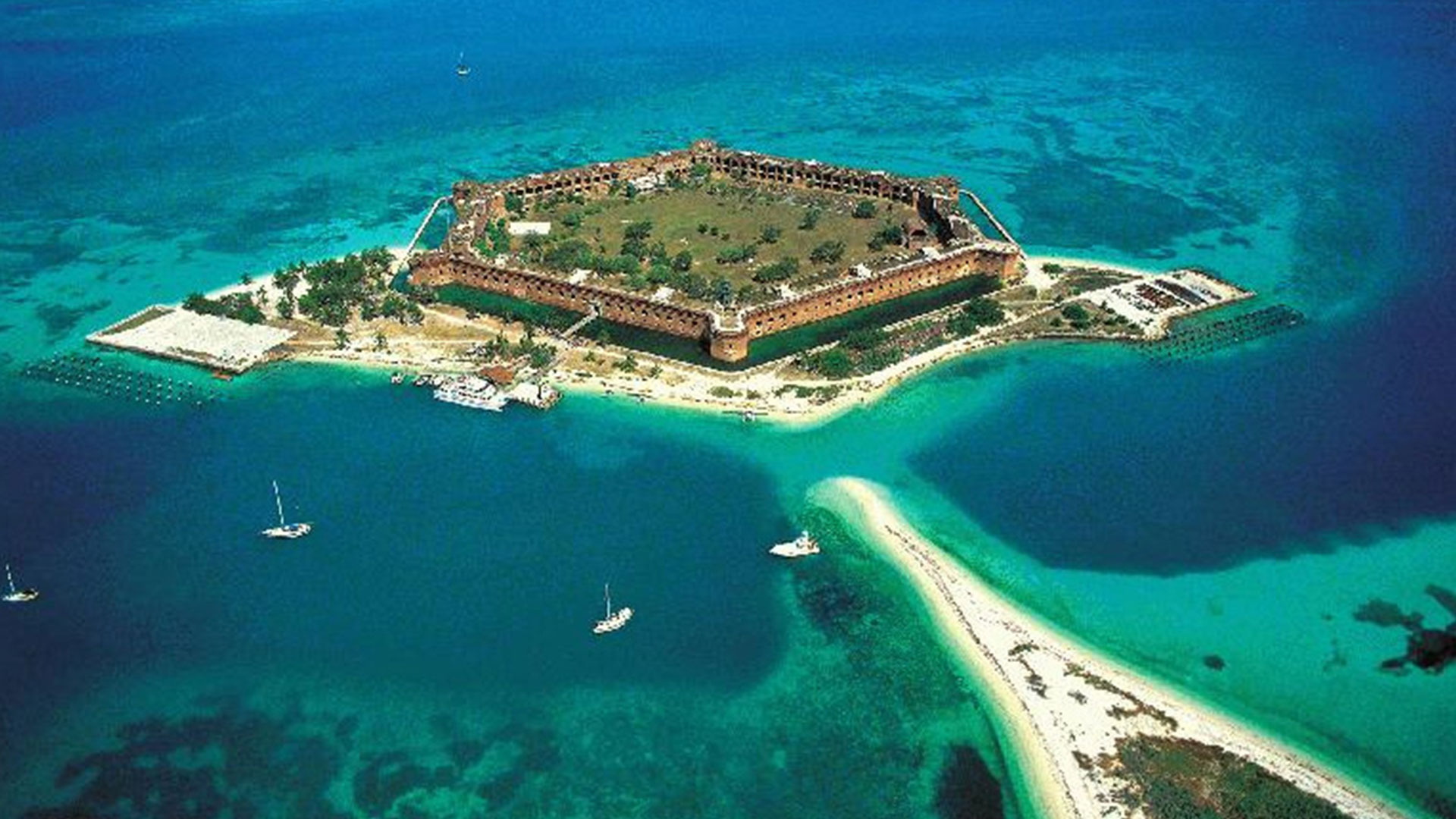 Dry Tortugas National Park
Almost 70 miles west of Key West lies the remote Dry Tortugas National Park. The 100-square mile park is mostly open water with seven small islands, collectively known as the Dry Tortugas, which are located along the edge of the main shipping channel between the Gulf of Mexico, the western Caribbean, and the Atlantic Ocean. This strategic location results in a large number of vessels coming through the surrounding waters of the Dry Tortugas, connecting the Atlantic Ocean and the Gulf of Mexico. Accessible only by boat or seaplane, the park is the home of historic Fort Jefferson, picturesque blue waters, superlative coral reefs, sensitive marine life, and a vast assortment of birds that frequent the area. Dry Tortugas National Park allows visitors to go boating, snorkeling, diving, and swimming in the clear blue waters.
Dry Tortugas National Park was created in 1992 to safeguard the island and marine ecosystems of the Dry Tortugas, to protect Fort Jefferson and submerged cultural resources (shipwrecks), and to permit public access in a more controlled manner.
This project involved the dock and pier replacement at Fort Jefferson.
PROJECT HIGHLIGHTS
Pile driving within an environmentally sensitive area.
Demolition of existing piles and piers.
Installation of concrete support piles.
Installation of pre-drill of pile holes as per DOT specifications.
Forming and pouring of concrete pile caps.
Download Project Sheet
Download PDF
Details
Dept. of the Interior (DOI) / National Park Services SER - EVER, Everglades National Park, Contracting & Property Management
$553,000
Apr. 2011 – Jun. 2011
Services
• HEAVY CIVIL & MARINE CONSTRUCTION

Location