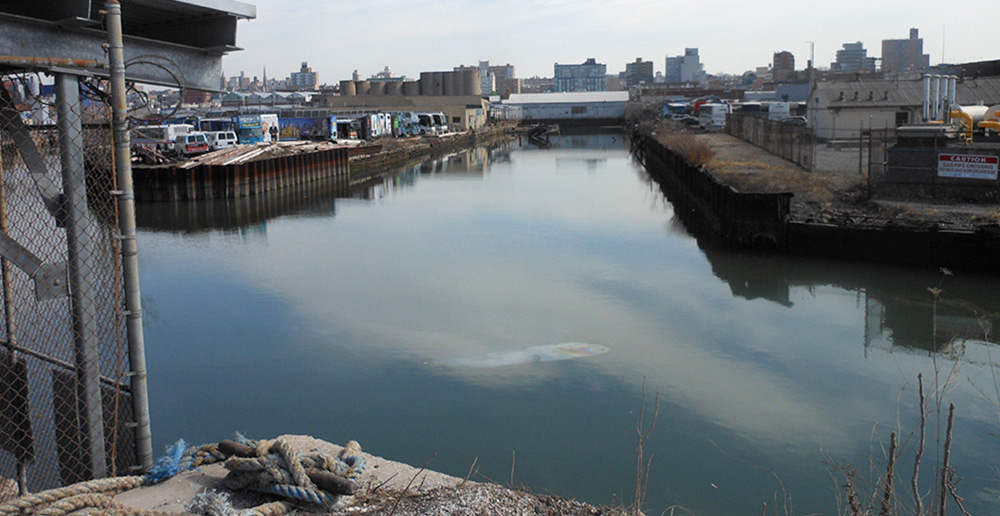 Gowanus Canal Pilot Test Program
The Gowanus Canal is a 100-foot-wide, 1.8-mile-long canal in the New York City borough of Brooklyn, on the westernmost portion of Long Island. Once a busy cargo transportation hub, the canal is now recognized as one of the most polluted bodies of water in the United States. The canal is still used for waterborne transportation of goods, notably fuel oil, scrap metal and aggregates. Tugs and barges still navigate the canal daily.
In 2014, CASHMAN performed a Pilot Study to evaluate different sheet pile designs and effects on infrastructure along the Gowanus Canal for future remediation work. Information gained during the Pilot Study was used to determine best remediation methods for the former Metropolitan and Fulton Manufactured Gas Plant (MGP) sites.


PROJECT HIGHLIGHTS
Excavated / backfilled seven test pits and two areas of preclearing for a total of ~1,300 cubic yards.
Installed, than extracted, seven pairs of 50- and 60-foot steel sheetpiles for a total of 2,251 square feet.
Placed more than 100 tons of stone rip-rap to stabilize the embankment.
Placed and finished 625 square feet of concrete within an active concrete plant.
Utilized an odor suppressant foam and spray during excavation activities and on stockpiles, and disposed of MGP contaminated soils at an owner-approved facility.
Provided vibration, air, dust and noise monitoring.
Installed environmental controls including silt fence and oil / silt boom.
Demolished bulkhead and other concrete structures, and sized for disposal.
When a high-powered vacuum truck could not clean out all of the soil in the sheet enclosures, C

ASHMAN

collected the soil during sheet driving.
C

ASHMAN

designed a custom airlift powerful enough to get 50 feet deep, yet small enough to fit in the 3-inch gap in the enclosure.
Download Project Sheet
Download PDF
Details
National Grid USA Service Co., Inc.
$1.1 million
February 2014 - March 2016
Services
• HEAVY CIVIL & MARINE CONSTRUCTION

Location