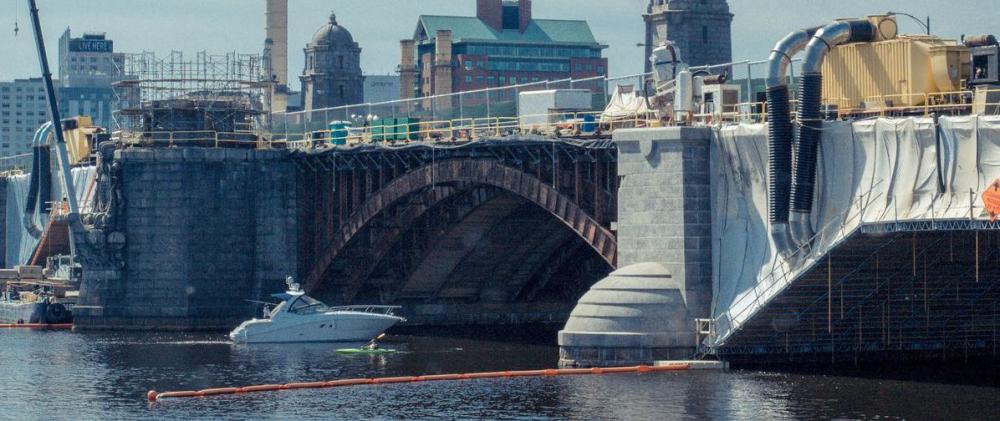 Longfellow Bridge Demolition / Replacement
The Longfellow Bridge, a combination railway and highway bridge, carries the Route 3 roadway, the Massachusetts Bay Transportation Authority Red Line trains, bicycle, and pedestrian traffic. The structure spans the Charles River to connect Boston's Beacon Hill neighborhood with the Kendall Square area of Cambridge, Massachusetts.
MassDOT's Longfellow Bridge Rehabilitation Project began in July 2013. In the first stage of construction, MassDOT closed the upstream side of the bridge to all modes of travel to begin demolition and rehabilitation. CASHMAN affiliate The Demolition Company (TDC) was contracted to conduct the multiphase demolition of the bridge.


PROJECT HIGHLIGHTS
This project includes a four-phase demolition of the existing bridge deck and steel spandrels next to the MBTA right-of-way and tracks.
Worked involved intricate demolition with and around other trades from the existing bridge deck.
The teams planned a weekend MBTA Red Line train shutdown to remove the fence and bridge deck so as to install a debris-protection fence along the right-of-way.
Download Project Sheet
Download PDF
Details
Mass. Dept. of Transportation
$6.3 Million
2013-2014
Services
• HEAVY CIVIL & MARINE CONSTRUCTION

Location