« Back to Press
US Transportation Secretary Pete Buttigieg visits Port of Baltimore to highlight significance of US maritime infrastructure – "shovel worthy vs shovel ready"
July 30, 2021
|
Website
A DredgeWire exclusive, by Peter Bowe
DredgeWire was very pleased to be invited by both the US Dept of Transportation and the Port of Baltimore to join Secretary Pete Buttigieg on his tour of the Port. Publisher Peter Bowe attended for DredgeWire and filed this report.
Background on the Port of Baltimore Visit
On Thursday, July 29 U.S. Transportation Secretary Pete Buttigieg visited the Port of Baltimore, joined by Maryland Governor Larry Hogan, both Maryland Senators, Ben Cardin and Chris Van Hollen, Baltimore Mayor Brandon Scott and Port Executive Director Bill Doyle for a briefing and tour of the Seagirt and Dundalk marine terminals, two of the Port's six public terminals. This was the Secretary's first visit to a port since he took office.
The Port of Baltimore is one of the busiest seaports in the U.S., handling more autos and farm and construction equipment than any other U.S. port. It is also one of a few East Coast ports with a 50-foot deep (16m) channel, which enables it to accommodate some of the largest container ships in the world. The Port of Baltimore is one of Maryland's leading economic generators with more than 15,000 direct jobs and 140,000 jobs in Maryland linked to it. Past federal grants have allowed the Maryland Port Administration to extend rail to support rail access, widen and deepen the channel via dredging, install concrete runways, upgrade roads, as well as carry out projects for resiliency and flood mitigation.
The Secretary highlighted the Bipartisan Infrastructure Deal, which cleared an important hurdle with a bipartisan vote of support in the U.S. Senate this week. It includes $17 billion to modernize and better maintain ports, investments intended to help American manufacturers sell their goods around the world by removing transportation bottlenecks.
Supporters of the Bipartisan Infrastructure Deal think it will be a once-in-a-generation investment in American infrastructure though DredgeWire notes the new bill's spending on ports at $17B lags far behind the $109 billion for upgrades to roads and bridges and $66 billion for freight and passenger rail, and much of the port spending is intended for environment improvements such as emissions reductions from port activities generally.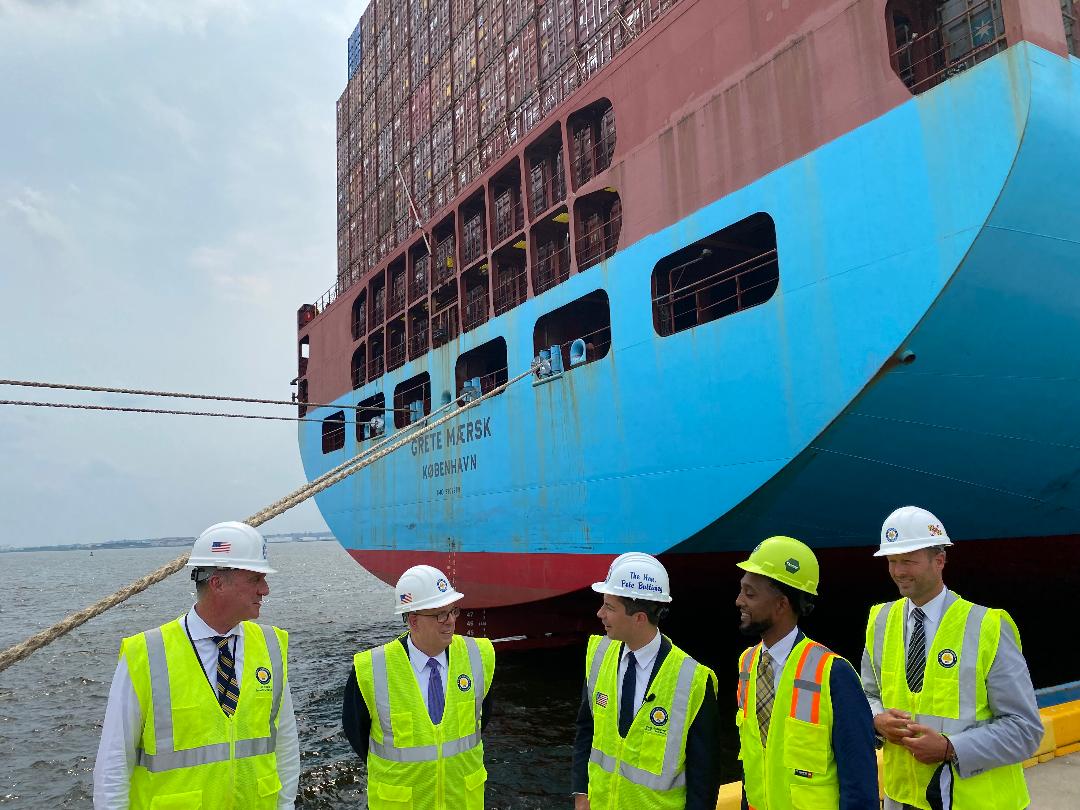 Left to right – Port of Baltimore Executive Director Bill Doyle gives port tour to Maryland Governor Larry Hogan, transportation Secretary Pete Buttigieg, Baltimore Mayor Brandon Scott, and Maryland secretary of transportation Greg Slater. In background is Maersk 11,000 TEU container ship "Grete Maersk"
What the Secretary said:
First he thanked Port Executive Director Bill Doyle for his obvious enthusiasm and leadership as did all of the other elected officials present.
He correctly noted that there has been an "unprecedented cargo volume at American ports."
He said that American ports need "dredging to accommodate more post-Panamax vessels."
He focused much of his remarks on the environmental and equity goals of the $17 billion but also said that "jobs is the point of all this." The way he described the issue of environmental goals largely related to improving quality of life for citizens living in port neighborhoods.
"Shovel worthy" versus shovel ready"
Buttitiege raised an issue himself: "What's the difference between this bill and the 2009 stimulus?"
His answer was that while the earlier bill was focused on "shovel ready" projects, this new bill would be focused on "shovel worthy" projects. He said this was a bill of "historic scale and scope but it was the beginning and not the end."
DredgeWire asked Buttitigieg directly for specific examples of maritime infrastructure bottlenecks which would be ameliorated with the new spending. The Secretary did not have specific examples but rather suggested that new technology would be developed and better communication about best practices would be facilitated which would be helpful.
Baltimore's Howard Street rail tunnel to be double stacked
Both the Secretary and Governor Hogan emphasized the significance of redoing this 126-year-old bottleneck which affects traffic in and out of the port. Beyond the 6500 construction jobs, the Governor said that the updated tunnel would have an "exponential" impact on port and regional growth and praised the Port as a "shining example of world class infrastructure." According to the Governor's office, funding includes $202.5 million from Maryland, $125 million in a federal Infrastructure For Rebuilding America (INFRA) grant, $113 million from CSX, $22.5 million from Pennsylvania, and $3 million in federal highway funding.
DredgeWire liked the fact that Governor Hogan referred back to his time as chair of the bipartisan National Governors Association where he took the lead in promoting investment in infrastructure as a bipartisan opportunity for productive compromise.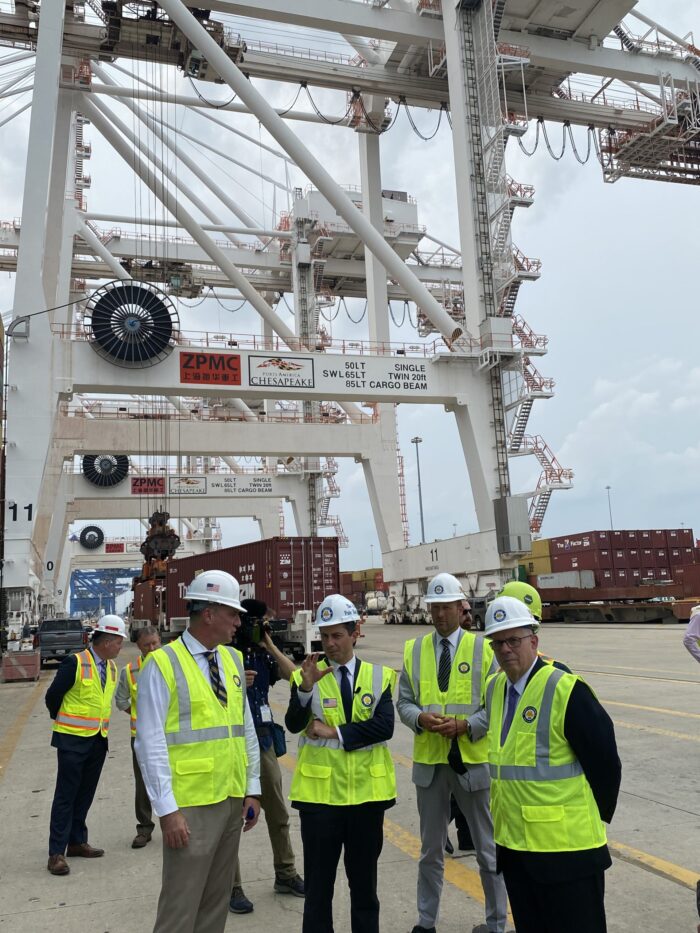 Tour group in front of Post-Panamax crane – Source DredgeWire
Dredging Key
As noted above, the Secretary specifically mentioned the need for more dredging in a post-Panamax world.
The Secretary and Governor and both Senators all mentioned the importance of dredging locally for the Port of Baltimore as well as nationally. Cardin praised the Federal government and Corps of Engineers for their flexibility in proposing new solutions for dredge material disposal sites and for beneficial use such as island and coastal restoration.
The Governor and Director Doyle highlighted that an additional 50-foot-deep berth at Seagirt will be fully operational by the end of 2021 which will allow the Port to accommodate two supersized ships simultaneously. Dredging was completed in April and four Neo-Panamax cranes will arrive in Baltimore early in September. The project is part of a $122 million investment, with $105 million from Ports America, $10.5 million from Maryland, and a $6million grant from the USDOT Better Utilizing Investments to Leverage Development (BUILD) program.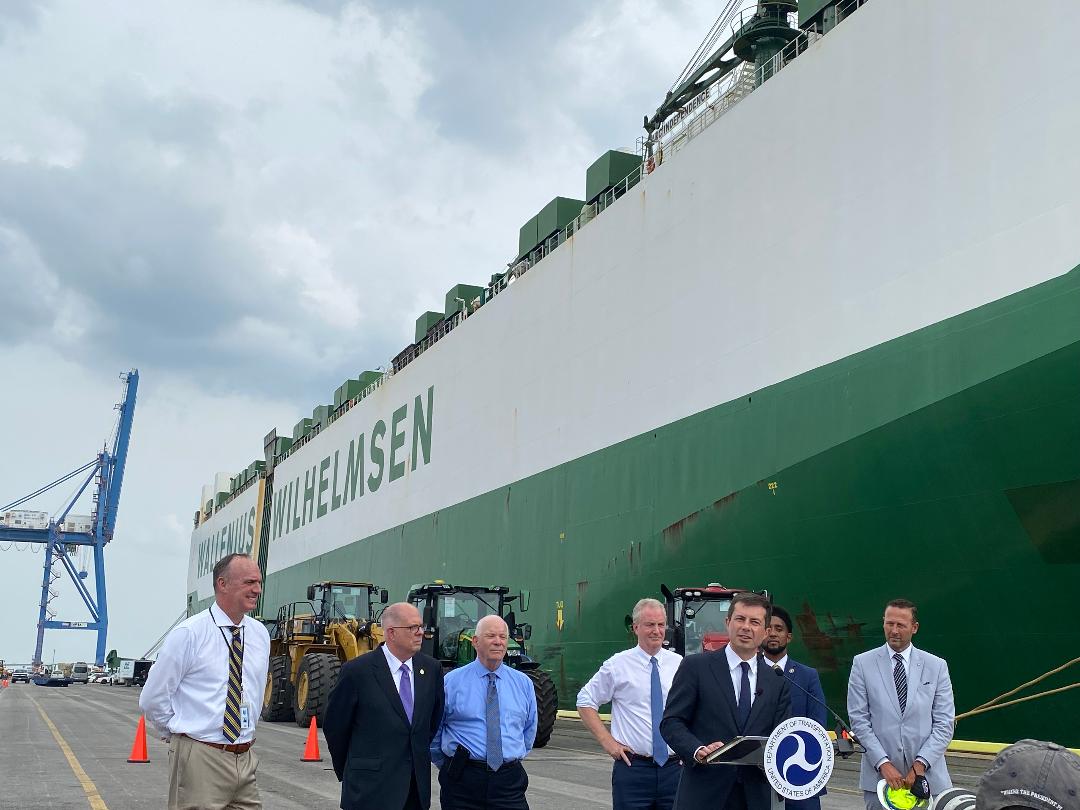 From left to right, Port of Baltimore Director Bill Doyle, Maryland Governor Larry Hogan, Maryland Senator Ben Cardin, Maryland Senator Chris Van Hollen, Transportation Secretary Pete Buttigieg, Baltimore Mayor Brandon Scott, Maryland Secretary of Transportation Greg Slater In front of car ship carrier Arc Independence, owned by Wallenius Wilhelmsen, and built by Daewoo Photo DredgeWire
Cashman Dredging is currently dredging the federal channel leading into the Port of Baltimore for the U.S. Army Corps of Engineers and beneficially placing the material at the Paul S. Sarbanes Ecosystem Restoration Project at Poplar Island, restoring lost remote island habitat in the Chesapeake Bay. Cashman's dredge Dale Pyatt, the largest clamshell dredge in the Western Hemisphere, is working on the project said Cashman Dredging's President and CEO Dale Pyatt.
Pyatt told DredgeWire: "We are proud to be an active player in the Port of Baltimore's infrastructure development activities through this critical Army Corps project. We stand ready to assist on further future investments."
DredgeWire understands that the Government estimate for the dredging project was around $20 million.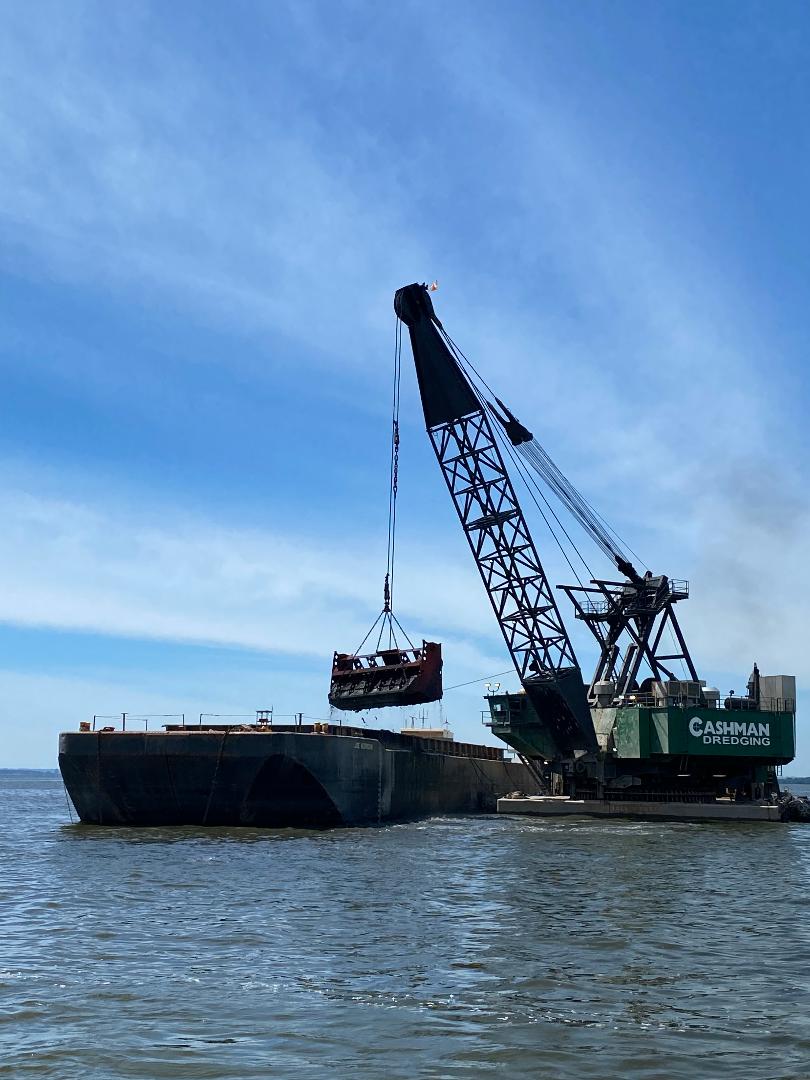 Cashman Dredge "Dale Pyatt" Operating in Baltimore – Source, Michael Gerhardt, Cashman Dredging

Latest Posts